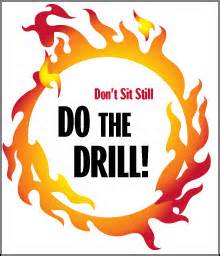 We had our first fire drill today. The children did very well indeed. They managed to exit the building in a very orderly fashion in less than 2 minutes and may I just add that grade 1 in particular were brilliant.
We discussed the importance of doing fire drills and it would be useful if parents could discuss this at home. One or two kids talked about being prepared by wearing their shoes in bed, so dont be overly surprised if you find your son or daughter in pyjamas and a pair of rubber boots in the evening!
It is very important that students have indoor shoes here at school and that they understand that they have to wear them. We are mandated to have 2 fire drills per annum but we will have more. Students will not have time to put on outdoor shoes and get ready.
Although our first fire drill was successful, we left some doors open. So that is an area to improve on. In the next few weeks we will use the emergency exit so students get used to that also.
So congratulate your child on a job well done!
Yours sincerely,
Robert Browne
Read more...