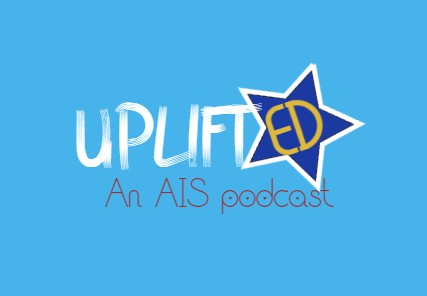 A podcast created by Asker International School for anyone passionate about pedagogy. A small school with a big VOICE!
Mr Mark interviews educators, students, parents and influencers on all things education.
Our newest episode of Uplifted A Small School Big Voice Podcast is live!
Two titans from the student community - Laura and June talk about the trials and tribulations of leading the student council.
Today we released the 13th episode of UpliftED: Student council - A hotline to the principal.
Listen on Spotify here:
Listen on Itunes here:
Listen on Buzzsprout:
Our previous episodes are also available on the links above. Here is a quick summary of their themes and guest speakers:
Episode 1: I time
In this Episode Mr Mark talks to Matthew, a Grade 2 teacher at Asker International School about the introduction of I time into the curriculum. Mr Matthew speaks passionately about the impact this 45 minutes strategy is having in his classroom. Matthew also stresses the importance of professional development and teacher autonomy as catalysts for the emergence of I Time as a pedagogical vehicle to promote student agency and inquiry.
Episode 2: Outdoor Learning
Can you imagine hopping and skipping to the forest, in minus degrees, knee deep in snow with 20 children in tow? For Rebecca, an elementary/primary school teacher, this is the highlight of her week. Rebecca is an advocate of outdoor learning regardless of the weather. In this episode, Rebecca challenges the idea that teaching and learning belongs in the classroom.
Episode 3: Home Learning CV 19
In this special episode Mr Mark speaks to five students from Asker International School about the provision of Home Learning during the CV19 pandemic. The students' responses are based on their experiences after almost three weeks of forced digitalized learning.
Episode 4:Making it work - During CV19
Just under 8 weeks ago the CV19 pandemic changed the educational landscape in Norway overnight. Mr Mark Miss Ivon and Mr Brent provide some insight into how they have attempted to be solution orientated in response to isolation and home learning to ensure their own well-being and educational effectiveness is maintained.
Episode 5: Precorrection
Asker International School has a growing reputation in Norway for its calm learning environment. Today's guest Robert Browne, the principal of the school, speaks candidly about the importance of precorrection in creating a classroom & school culture for learning.
Episode 6: Provocations
To frustrate, to irritate, to excite, to amuse, to shock - the need to provoke interest and exploration lies at the centre of this episode. Andrew is the guest on the show. He is a PYP coordinator, PE teacher and IB enthusiast. Listen to the sixth episode, Provocations, on the links below.
Episode 7: Lego Robotics
When lego is no longer just lego. A dumbing down or smarting up of the curriculum? This episode's guest is James, a PYP teacher and ICT lead at Asker International School who gives his views on the learning benefits of lego.
Episode 8: The Living Wax Museum
In this episode Mr Mark chats with Catie. Catie is a PYP teacher at Asker International School. She is the brains behind the introduction of The Living Wax Museum into the Grade 4 curriculum. An inquiry driven approach to delivering the unit on revolutionaries.
Episode 9: The Power of Reading
One quarter of all students in the primary phase have become student librarians in under a year. Thomas, a Grade 3 teacher at Asker International School, reveals how the school's 'The Power of Reading' (CLPE) initiative has perpetuated a hunger for reading amongst students, and incited student agency. For more information on 'The power of Reading' go to https://clpe.org.uk/powerofreading
Episode 10: Phonics: The WHY and the HOW
How can synthetic phonics exist harmoniously in the midst of an educational setting that values the importance of 'inquiry learning'? Miss Angie speaks candidly about the importance of synthetic phonics regardless of ones pedagogical leanings.
Episode 11: Reimagine Reuse Redesign
Next summer's fashion craze: 'Second Hand Design'. Is it possible? Is it necessary? Linda Hörnquist, both an educationalist and entrepreneur, believes the answer to both of these questions is YES . She is driven to make a difference in her local community by challenging people's attitudes to recycling fabric, and promoting the art of sewing.
Episode 12: The Penny Drops (Again)
In this episode Mr Mark chats about going back to University as part of Asker International School's philosophy of teachers being life-long learners. He reflects on the surprise learning moments he experienced while once again walking in the shoes of his students.