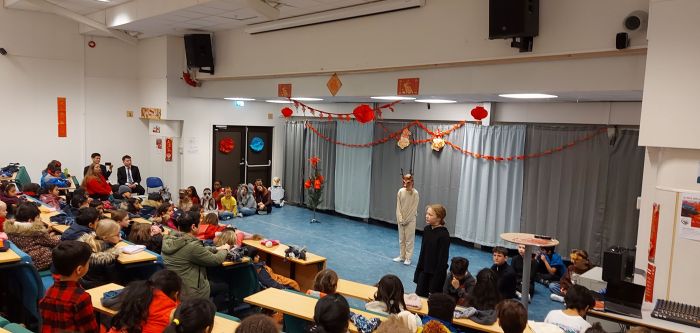 We had a wonderful celebration of the Chinese New Year at AIS this week. Undoubtedly, the highlight of our Chinese New Year celebration was the assembly. Grade 8b's Chinese New Year song of Gong Xi Gong Xi and Lion dance opened the Chinese New Year celebration followed by Grade 9a's fun-filled puppet show for the story of The Great Race. The assembly ended with Grade 6b's fabulous traditional Kung Fu Fan dance. Their performances involved writing scripts, dancing, singing, presenting and acting. The MYP students demonstrated their collaboration, cooperation and teamwork to make this assembly unique. The PYP students were also actively involved in the cultural activities: New Year Greeting cards, Word search, Chinese New year stories and New Year Kaboot. Throughout the activities, students enhanced their understanding of Chinese culture. The celebration came to an exciting conclusion with tasting Chinese snacks.
Thank you to our guests Mr. Chang Quansheng and Mr. Li Hui from the Chinese embassy who joined us for our Chinese New Year celebration. Their presence added a special touch to the festivities and made the celebration even more memorable.
Many thanks to all parents who ensured their children embraced the celebration by wearing the colour red.
Thank you very much to the students and teachers for their hard work and dedication in making this event culturally beautiful.
Wishing all our families a happy and prosperous year of the Rabbit.