Music, yoga and celebrations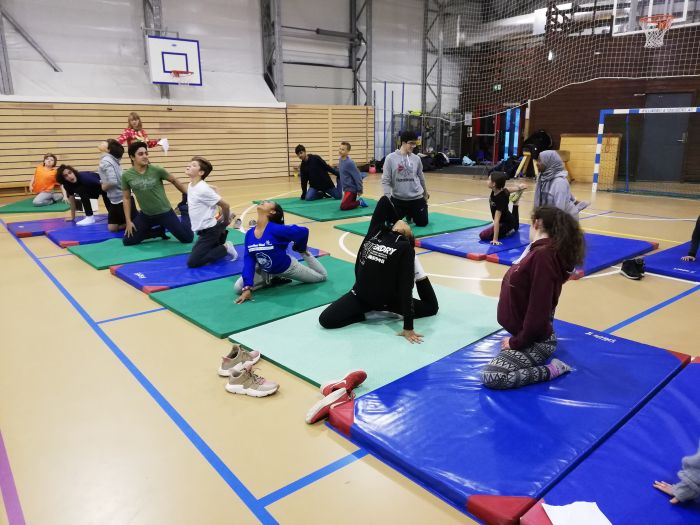 The staff and teachers at AIS had a fresh start this week after having had two days of training and planning for the development of the school. Last Thursday, we were lucky to receive music training in preparation for delivering weekly music lessons beginning January 2019. The sessions were fun and we can't wait to introduce the music programme to the children! In one of the training sessions, MYP teachers learned the basics of html and css coding to create a website for their subject.
The Hindu Swayamsevak Sangh (HSS) Norway organise Guru Vandana to highlight the importance of honouring teachers in various fields. Last Sunday Miss Elizabeth and Mr Mark were delighted to attend this ceremony. Both were honoured to have been chosen and had a fantastic time taking part in the games and celebration.
This week, Grade 1 learned more about Eid-al-Fitr and how it is celebrated by Muslims around the world. We're making sure all religions celebrated and acknowledged, it is wonderful to have parents coming in and sharing with us all about special celebrations in their culture!
In Maths this week Grade 8 found the surface area and volume of a range of objects and Grade 6 discussed the use of percentages, they had to compare different prices for items on sale.
During the PE lessons Grade 6 students took part in their floor hockey tournament in connection with their summative assessment. The Grade 9 students achieved flow in their yoga sequence summative assessments.
On Wednesday Grade 8 students met the author of Martian Dictator. The author, Øyvind Harding, is an Asker resident. The class are presently studying science fiction literature.
For Design, Grade 9 were challenged to prepare a healthy and nutritious meal to share with their classmates. Their hard work in the kitchen was evident as they enjoyed feasting on various dishes.
Grade 10 students worked collaboratively on writing a script for their short play in Mandarin this week. They will perform the short play as their summative assessment.
After an action-packed week, we are ready for the first week of December!