Program for the first day back!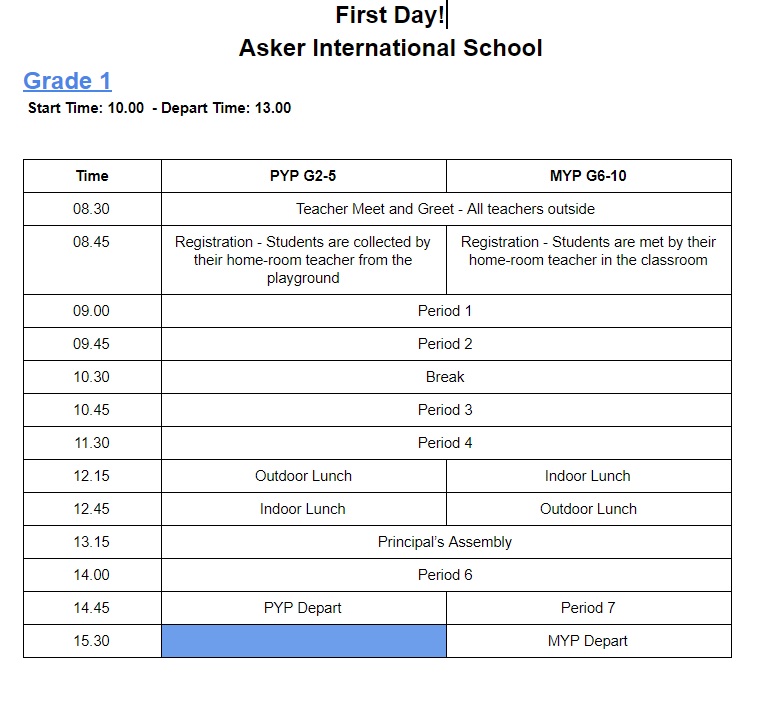 We are looking forward to welcoming all the boys and girls back to AIS. All students will have a fairly normal day, with the exception of grade 1, who start at 10:00. They have a modified timetable for the first 5 days as it can be a lot for them.
New school, new rules, new teachers and for many, a new language! So it is important they have short days and meet success on their first days of schooling.
We have a few new teachers joining us which is also very exciting. They have been very busy for over a week now getting used to our systems and ways of doing things. We are hopeful they will bring a lot of positive energy.
Miss Jeanita and Miss Elnaz will be joining us again and in addition we have Miss Catie in Grade 4, Mr. Thomas in grade 3, Miss Lauren in MYP, Miss Siri in Norwegian and Miss Marianne in Norwegian also.
This is an exciting new year and we welcome everyone back to Asker International School, a fully authorised IB World School, as we now hit 300 students and 35 staff.